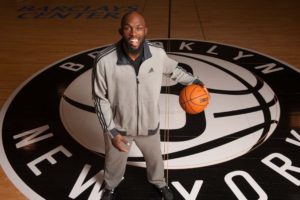 Reginald Jamaal "Joker" Evans was born and raised in Pensacola, FL. Graduating from Woodham High School, Reggie attended Coffeyville Community College in Kansas before transferring to the University of Iowa in 2000. While at Iowa, Reggie led the nation in free throw shooting and double-doubles. In 2001, Reggie was named the Big Ten Tournament MVP and was an Honorable Mention All American.
Reggie began his NBA career immediately out of college in 2002 when he signed with the Seattle SuperSonics and led the NBA in rebounds-per-minute-played. A statistical analysis published by ESPN in 2005 found that on average, Reggie would rebound one quarter of all shots missed while he was in a game. Reggie would go on to play with the Denver Nuggets, Philadelphia 76ers, Toronto Raptors, Los Angeles Clippers, and the Brooklyn Nets. In February of 2014, Reggie was traded to the Sacramento Kings for the remainder of his contract. Reggie continued to make headlines as a leader in rebounding, but most will argue that Reggie is best known for his commitment and love of the game because he plays with such immense dedication and heart. In 2017, Reggie joined the inaugural class of the Big 3 Basketball League where he was picked third in the draft and played forward for the Killer 3s.
The love of the game did not just happen for Reggie, he was born with the passion and worked hard, day after day, to stand where he does now. And he's returned that passion for the game and for life to his community by creating The Reggie Evans Recreational Basketball League, which is about to start its second year while beginning to thrive. Reggie has also created several AAU basketball clubs. Known as "Team Evans", they hit the court hard day in and day out under the tutelage of Reggie and his group of trusted coaches with only one motto: #DoWork. That sums it up. Do the work, every day, all day, all the time. Pull yourself up by the bootstraps and thrive in this life. Don't let anything or anybody get in your way. That's the way that Reggie Evans lives and breaths – He battles.
Raised by a single parent in a deprived neighborhood, Reggie's outlet and love was basketball. If he was not in school, he was on a basketball court at a local park playing with older and bigger guys that played rough basketball. These were games where fouls or penalties were never called. With trouble trying to entice him at every turn, Reggie instead pushed himself to focus and perfect his game. Reggie oftentimes reflects back on his childhood now and recalls how difficult everything was; however, he also remembers it was his motivation that made him more determined to make a better life for himself, and someday, his family. Reggie met his wife Joi while at the University of Iowa, and they reside in Pensacola, FL with their four beautiful children.